Large Crowd for saveMIcity event in Romulus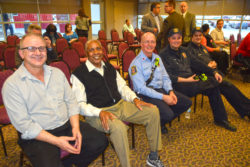 ROMULUS, Michigan – Upward of 70 people attended a highly successful saveMIcity municipal finance forum in Romulus Thursday involving the Michigan Municipal League, the City of Romulus and Plante Moran.
The Community Financial Health Forum featured the League's Anthony Minghine, COO and associate executive director, and Plante Moran's Frank Audia, group managing partner.
Minghine talked about how Michigan's economy is improving but its communities continue to suffer due to the state's broken system for funding municipalities.
"We got to understand true growth. Michigan's population has been around 10 million people since the 1980s," Minghine said. "But we haven't experienced truth growth. True growth is about people. If we've kept pace with the nation, we would have 14 million people now in Michigan. Think how much better off we would be with 4 million more people? We're getting beat by every measure because we're not investing in the ways other states are. They're investing in transit and infrastructure and communities and in the things that matter and we're not. We're disinvesting in our communities and it doesn't make sense. We're not going to win this battle because of having lowest taxes and cheapest services."
Minghine's talk in Romulus is part of a long-term effort by the League to inform the public, businesses and community stakeholders about the broken municipal finance system and ways to fix it.
Minghine explained the League is trying to fix the system by developing policy recommendations around three themes: Cost containment, revenue enhancement and structure of government.
Audia discussed the steps and sacrifices Romulus has taken to remain financially solvent.
He also explained the challenges in Romulus and how the city's charter caps its millage rate at 10 mills. Romulus has among the lowest millage rate of any city in Wayne County.
"When the Great Recession hit, how did cities survive? Most cities had to cut their way to remain fiscally sustainable," Audia said. "And it's really hard to run a city on a 10-mill charter. It's darned near impossible.
"We need full municipal finance reform. It is an issue of looking at the whole model. It's not that anyone had anything out for local government this is a culmination of policies enacted over many years without looking at the full picture," Audia said.
If you are interested in having the saveMIcity message be given in your community contact saveMIcity at savemicity@mml.org.
Related:
–  Press Conference: Solutions for Fixing Broken System for Funding Communities
– Crain's Detroit Business: Funding Squeeze Could Prompt Proposal A Update
Matt Bach is director of media relations for the Michigan Municipal League. He can be reached at mbach@mml.org and (734) 669-6317.