The Research Helping to Make our Case
Click on an image or heading below to view a downloadable version of the report.

Broken Financial System: Issues and Proposed Actions
The Michigan Municipal League's Michigan's Broken Financial System Report is the second such report detailing the plight of Michigan's communities and a framework for possible solutions.

The Need for Greater Revenue Sharing with Michigan Cities
Hillsdale Policy Group
Hillsdale Policy Group is recently promoting a study they did about the importance of revenue sharing to communities and Michigan. There was also a recent excellent column about the research in the Detroit News that you can check out here.

Michigan local governments report first declines in fiscal health trends since 2010
University of Michigan, Project CLOSUP
A survey by The Center for Local, State, and Urban Policy found that for the first time in six years the financial outlook among our local government officials is getting worse. The League's Anthony Minghine says the survey results point to the fact that the system is broken and we need to change it.
Michigan's Great Disinvestment: How State Policies Have Forced Our Communities into Fiscal Crisis
Great Lakes Economic Consulting
A report supported by the League examines the changes that have affected the finances of municipalities over the past 20 years and explores ideas for improving their overall fiscal stability.

Creating 21st Century Communities: Making the Economic Case for Place
Public Sector Consultants
The League commissioned Public Sector Consultants to study the validity of the economic impact of placemaking. This report outlines and affirms that there is a direct and quantifiable economic impact to creating great places.

Paying for Local Infrastructure in a New Era of Federalism – A State By State Analysis
National League of Cities
U.S. cities are struggling under the weight of an infrastructure deficit, with a growing backlog of projects made worse by a slow economic recovery. A new report from the National League of Cities, Paying for Local Infrastructure in a New Era of Federalism: A State-by-State Analysis, presents a national comparison of the local tools available for cities to fund infrastructure.

2013 Revenue Comparison: Michigan and the U.S. Average
Citizens Research Council of Michigan
United States Census Bureau data show that Michigan has evolved from a high tax state to a below average state over the past three decades. This change can partly be attributed to economic decline as Michigan's state and local governments are, for the most part, levying the same tax rates against smaller tax bases caused by the state's "lost decade" of economic decline. This report from the Citizens Research Council details our shocking decline.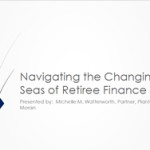 Navigating The Changing Seas of Retiree Finance
Plante Moran
This report outlines changes affecting Other Post-Employment Benefits (OPEB), which is primarily retiree health care. It also makes mention of trends and perceptions surrounding this important issue.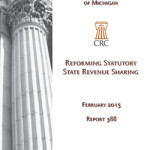 Reforming Statutory State Revenue Sharing
Citizens Research Council of Michigan
The Citizens Research Council released this report in February 2015. It looks at how revenue sharing is currently distributed, and makes recommendations as to alternative considerations for allocating our limited resources.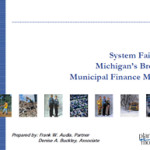 System Failure: Michigan's Broken Municipal Finance Model
Plante Moran
There were unintended consequences when Proposal A passed and was combined with the Headlee amendment. We created a model that only tracks downward and is crippling local government. This report details the reasons why and presents solutions to that issues.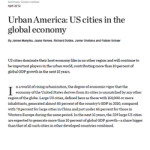 Urban America: U.S. Cities in the Global Economy
Cities are the driver of economic activity in America. Over 80 percent of our GDP comes from cities.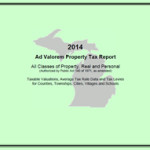 2014 Ad Valorem Property tax report
This is a report from the Michigan Department of Treasury that details taxable values and tax revenues for local government in the State of Michigan. It is a good source of raw data to understand how taxes are levied and collected.