Save Michigan Cities Event Happening in Flint October 25; Event Features Congressman Dan Kildee and Stephen Henderson of Detroit Free Press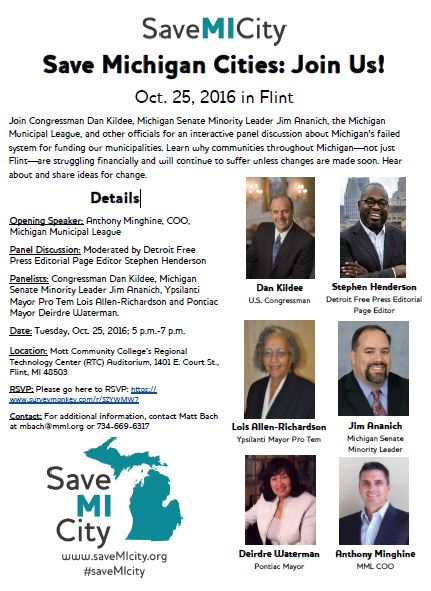 We hope you can attend a special event in Flint next week about the state's broken system for funding municipalities. The event is 5-7 p.m. Tuesday, Oct. 25, in Flint and it will feature Congressman Dan Kildee, Michigan Senate Minority Leader Jim Ananich, Detroit Free Press Editorial Page Editor Stephen Henderson and others.
This event is part of our saveMIcity.org initiative where the League has been traveling all over the state talking about Michigan's broken system of funding municipalities and ways to fix it. The Flint event is 5-7 p.m. at Mott Community College's Regional Technology Center (RTC) Auditorium, 1401 E. Court St., Flint, MI 48503.
Congressman Dan Kildee will be there as part of a panel discussion moderated by Detroit Free Press Editorial Page Editor Stephen Henderson. Other panelists are Michigan Senate Minority Leader Jim Ananich, Pontiac Mayor Deirdre Waterman; and Ypsilanti Mayor Pro Tem Lois Allen-Richardson. Go here for the event web page.
The League's Anthony Minghine will kick things off promptly at 5 p.m. with a brief overview of the broken system and how the state has diverted more than $7.5 billion in revenue sharing dollars from Michigan communities since 2002. The panel will then discuss the how this broken system has negatively impacted our local communities.
Space is limited and we ask attendees to RSVP here: https://www.surveymonkey.com/r/SZYWMW7.
Please help us spread the word by sharing this with co-workers and any others you feel would like to attend. Please have any people you invite fill out the RSVP link because space is limited to 125 attendees. We're also inviting the business community because we believe it's important for them to know why cities of all shapes and sizes throughout our state our struggling financially.
More details about our saveMIcity work which can also be viewed at saveMicity.org: 
Great places make for a strong economy, and the research supports that contention. By employing community-based placemaking strategies, we strengthen both our economic and social future. The Michigan Municipal League believes that at the heart of great places are strong cities. Across the country, cities account for over 80 percent of GDP, but in Michigan we have failed to invest in this vital resource.
After years of working within the existing paradigms, the League is undertaking a major legislative and policy push aimed at reforming municipal finance in Michigan to encourage renewed investment in our communities. This is intended to be an examination of how we can do things differently in Michigan to assure that local government can't just survive, but can thrive. To that end, the League will be developing policy recommendations around three themes: Cost Containment, Revenue Enhancement, and Structure of Government.
We are taking this approach to break away from the historically limiting tactic of incremental change within the context of where we are today. We need new ideas, innovative approaches, and bold action to create a new future for communities around Michigan.
Is this an issue that you care about and would like to have a discussion about locally? The League will work with you to plan an event in your hometown with community groups, local chambers of commerce, local media, etc. Just contact us and we will provide resources and/or a speaker to help foster the discussion.
Matt Bach is director of media relations for the Michigan Municipal League. He can be reached at mbach@mml.org and (810) 874-1073.