See How Much Revenue Sharing Dollars the State Has Diverted from Your Community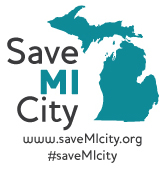 The state of Michigan has now diverted more than $8.1 billion in revenue sharing from Michigan municipalities, including cities, villages, townships and counties since 2002. This new figure adds in 2016 financial data and dates back to 2002. Through 2015 the total was $7.5 billion in diverted revenue sharing dollars and the new figure now reflects the most recent 2016 data.
How much in revenue sharing has your community lost? You can look up that figure in our newly updated Revenue Sharing Searchable Data base here: http://www.savemicity.org/search/
The consistent re-direction of revenue sharing funds away from Michigan communities is part of the reason that the state's system for funding its communities is broken. The Michigan Municipal League's saveMIcity initiative has been active for more than a year now and we've traveled to more than 30 communities speaking to thousands of people about the broken system and need for change.
The current system for funding municipalities is broken in multiple ways, including that it doesn't track with the economy. Michigan is recovering from the recession and housing crisis, but property tax revenue to communities doesn't rebound as quickly as it fell.
In addition, as property tax revenue declined, the state also reduced to communities another major income source, called revenue sharing.
The state cut anticipated revenue sharing to communities from 2002-2016 by $8.1 billion. From 2002-2012, Michigan was the only state in the nation where municipal revenue actually fell, and there has been little improvement since then. That means cities have laid off first responders and been unable to maintain roads and infrastructure, let alone provide the services that attract college graduates, the lifeblood of today's middle class.
The League through this saveMIcity initiative is trying to fix the system by developing policy recommendations around three themes: Cost containment, revenue enhancement and structure of government.
The next major public presentation on this topic is April 12 in Grand Rapids. The Community Financial Health Forum is set to provide information on municipal funding and the impact of state revenue-sharing declines, along with ways to improve the funding system. The event is hosted by the League and Urban Metro Mayors and Managers, a group made up of officials from Grand Rapids, Wyoming, Kentwood, Walker, Grandville, and East Grand Rapids with the goal of bettering their communities. View an article about it here at mlive.com.
The saveMIcity work has received considerable attention in the media. An in-depth article recently jointly posted by Crain's Detroit Business and Bridge Magazine, extensively quotes Dan Gilmartin, the League's CEO and executive director, as well as the League's Anthony Minghine, COO and associate executive director. Gilmartin  says that local governments across the state need to do a better job at sharing services and cutting costs. But cities also are limited in how much money they can bring in, even if residents were willing to tax themselves more – and that is something Lansing has to fix.
Gilmartin and other leaders are proposing an update to Proposal A, the voter-approved 1994 Michigan constitutional amendment that caps property tax increases. Read the Crain's article here and check out the Bridge version here.
This is a great article and it's fantastic to see Crain's and Bridge tackle this complicated yet highly important topic of changes that need to be made to Proposal A and Headlee. It's in-depth and definitely worth your time.
In addition, a fascinating and important guest column was recently in the Detroit News with the headline "Revenue sharing boosts Michigan communities." This column by conservative Hillsdale College Economics Professor Gary Wolfram echoes many of the messages in our saveMIcity municipal reform effort. Wolfram  is the William Simon professor of economics and public policy director of economics at Hillsdale College. Please check out his column.
Matt Bach is director of media relations for the Michigan Municipal League and can be reached at mbach@mml.org.