Traverse City Here We Come!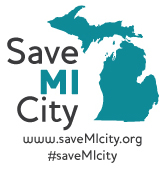 Real nice press release by Katy Garavaglia about our SaveMICity tour happening in Traverse City next week. Huge shout out of appreciation to the City of Traverse City, particularly Benjamin Marentette, Mayor Jim Carruthers, Commissioner Richard Lewis, Michigan Municipal League Board member, and City Manager Marty Colburn, for all their hard work to help make this happen. We know it's going to be a great couple days for the League's Anthony Minghine. We already got one media call asking about the event Monday evening – 6 p.m. at the Traverse Area District Library, McGuire Meeting Room.
Below is the press release sent out by the city (and click here):
Michigan Municipal League – Community Financial Health Forum
by Katy Garavaglia
Thursday, January 18, 2018
PRESS RELEASE – FOR IMMEDIATE RELEASE
---
Subject:              Community Financial Health Forum
Issued:                January 18, 2018
Michigan Municipal League Deputy Executive Director and Chief Operating Officer Anthony Minghine, in partnership with the City of Traverse City, will be holding a 'Community Financial Health Forum' at the Traverse Area District Library's McGuire Meeting Room, at 610 Woodmere Avenue in Traverse City on Monday, January 22, 2018. The forum is free and open to the public. The forum will be broadcast live and rebroadcast on upnorthmedia.org and on Government TV Channel 191.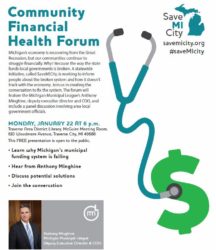 Mr. Minghine is a regular speaker on a variety of topics affecting local government, and frequently testifies to the state legislature on matters relating to local government finance. On January 22, he will be presenting the Community Health Forum, to discuss why Michigan's municipal funding system is failing. The way the state funds local government is broken and Mr. Minghine is leading a conversation across Michigan on how to fix the broken system. This forum will feature a discussion where you can join the conversation as Mr. Minghine works with the Michigan legislature to chart a course for improved funding and a better future.
Mayor Jim Carruthers, who believes in the importance of the services local governments provide looks forward to the discussion, "I'm glad that Mr. Minghine will be bringing the topic of how local units of government are financed to the forefront: it's important that we have a sustainable financial model that allows us to provide the services that touch everyone's life on the most local level. I look forward to our elected leaders from around the region joining in the discussion."
City Commissioner Richard Lewis and member of the Michigan Municipal League Board of Trustees, is a champion of communities working together, said, "I'm glad to have the opportunity to bring the region's local units of government together to talk about what can be done to better allow cities, villages, townships and counties, to fund the services that matter most to our communities. The Michigan Municipal League is working with the State Legislature to refine the financing model and it's important for our communities to be part of that discussion."
The City of Traverse City has invited the elected boards from the following communities: The cities of: Frankfort, Harbor Springs, Petoskey, Boyne City, Charlevoix.
The villages of: Kingsley, Elk Rapids and Bellaire
Grand Traverse County Board of Commissioners
All townships within Grand Traverse County
(This forum will take place of what would typically be a City Commission Study Session.)
##