Voters Approval of New Tax Dollars Greatly Appreciated, But Requests are Further Proof of Broken Municipal Finance System

Due to the state's continual disinvestment in local communities, local taxpayers were once again asked to step up to the plate and approve tax-related proposals during the recent Nov. 7 election. And, according to MIRS News Service, 75 percent of the tax questions seeking new money were approved. This is consistent with past elections where roughly 75 to 80 percent of tax-related questions are approved by voters.
Having such large support for local tax questions is excellent news for our local communities because it shows local residents recognize the important economic value of their local services by supporting those measures at the ballot box. But it's also a sign that the overall system is broken.
Here's an excerpt of the MIRS article summarizing the election results from earlier this month:
 Of the 168 tax-related proposals on local ballots across the state, 76 percent of them asked for new or increased money from residents, or 128 measures, according to MIRS' review of the proposals, which can be viewed here: https://mirsnews.com/pdfs/Nov2017BallotProps.pdf.
But that didn't stop residents from passing three-quarters of those proposals – in fact, 75 percent of the new money proposals passed.
The new money asks included 65 new millage proposals, of which 74 percent passed.
The new asks also included 40 bonding proposals and 15 sinking fund requests. Bond proposals passed at a 75 percent rate overall, while 66 percent of sinking funds passed. … Of the 44 public-safety related proposals – covering police, fire, emergency service proposals and the like – 33 passed and 11 failed.
MIRS News subscribers can read the full article here: https://mirsnews.com/capsule.php?gid=5207#51923 .
These results are proof that local voters will agree to tax increases and tax renewals to support local services, which is a great thing. But it's also yet another sign that Michigan's system for funding it's municipalities is fundamentally broken. In a more effective system, local governments would be getting enough revenue from existing sources that they wouldn't be forced to go to voters. Sadly, the state of Michigan has since 2002 continually disinvested in its local communities.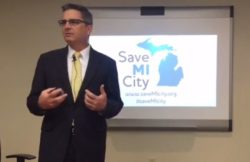 As part of our SaveMICity initiative, Anthony Minghine, COO and Deputy Director of the Michigan Municipal League, has explained in meetings throughout the state that Michigan ranks 50th in the nation in investment into its communities. He said since 2002 revenues to communities went down 56 percent while revenues to the state went up 27 percent. During the Great Recession, the state balanced its own budget on the backs of local governments.
This is clearly evident in the number of tax questions local governments have sent to local voters in recent years. Local governments have cut their budgets to the bone in recent years and seeking additional financial help from the voters is becoming more and more of a last-resort option. A key part of the problem is the fact that the state's system for funding cities and villages does not track with economy and as a result communities continue to struggle even as the economy rebounds, Minghine said.
This blog post was written by Matt Bach, director of communications for the Michigan Municipal League. He can be reached at mbach@mml.org.