Excellent media coverage for SaveMICity presentation in Traverse City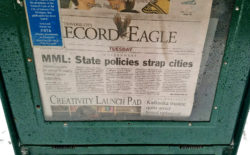 New: Watch Anthony Minghine's Traverse City presentation here
The Michigan Municipal League's SaveMICity initiative received some excellent media coverage over the last few days over our presentation in Traverse City about the state's broken system for funding municipalities.
The League's Anthony Minghine, Deputy Executive Director and COO, was in Traverse City Monday and today talking about the broken system and possible solutions to fix it. Minghine met with Traverse City area business leaders Monday afternoon and then spoke at a public Community Financial Health Forum at the Traverse Area District Library. Check out the coverage in the Record-Eagle here and here and in the Traverse City Ticker here.
Record-Eagle reporter Jordan Travis covered Monday night's event and wrote an excellent article under the headline "MML: State policies leave cities strapped; Statewide association calls for changes to Michigan's funding system for local govs".
Here's an excerpt from the article appearing in today's paper (Jan. 23, 2018):
Minghine spoke to Traverse City commissioners and a host of other local government leaders from the Traverse City area and beyond at a Community Financial Health Forum. He highlighted how Michigan has disinvested from cities and other local governments while other states have invested more. 
"The way our funding system works is broken, and we've got to start thinking about that, because whether we're in a good situation or a bad situation right now, we all have to play by the same rules," he said.
Michigan is the only state in the nation that provided less to local governments in 2012 than it did in 2002, Minghine said. Most other states provide 50 percent more on average. State revenues grew by 29 percent over that time, while local government revenues fell 56 percent. Local government payrolls also shrank by about a third while state employee ranks grew.
"By any measure, if you've got less people, you've got less services," he said.
Those services help attract people, businesses employ them and both pay taxes, Minghine said. He argued that putting more money into local governments could bolster the state's economic fortunes, while disinvesting puts Michigan cities at a disadvantage."
Minghine has additional meetings with the media and local officials today in Traverse City before heading back to our headquarters in Ann Arbor.