SaveMIcity coming to Romulus Feb. 23: A Closer Look at the "Home of Opportunity"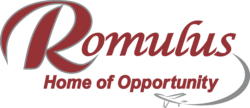 The City of Romulus has 104 fewer employees than it did a decade ago. It has 17 f­ewer public safety officers and eight less full-time firefighters. It's building and grounds program shifted from a full-time, in-house department to a seasonal, part-time workforce. The city even closed its library for several months until it was restructured and opened as a municipal library. Plus, it shut down all of its parks and recreational offerings for over three years as part of cost-savings measures.
On the surface, this Wayne County city of 24,000 residents has seemed to survive the storm that was the housing market crash and Great Recession of the late 2000s and early 2010s. But Romulus is weathered by that storm. It's roads, for example, are quite literally weathered. And after voters rejected a millage increase to improve the local roads, the poor conditions are only getting worse.
The city, like so many other Michigan communities, has for the last decade attempted to do the same amount of work or, in some cases even more work, with less. And it continues to provide more with less.
By less, we mean less money, fewer staff, and even less time. At one point things got so bad the city instituted furlough days where employees were required not to work on the third Friday of every month. They didn't get paid for the day off. This amounted to a 5 percent pay cut for staff and took place in addition to health care concessions.
Michigan's economy has improved in the last couple years, but it's communities continue to suffer due to the state's broken system for funding municipalities.
Learn about Michigan's failing municipal funding system and the impact on local communities like Romulus during a free "Community Financial Health Forum" at 5:30 p.m. (program starts at 6 p.m.) Thursday, Feb. 23, at the Romulus Athletic Center, 35765 Northline Road.
In Romulus, the parks and library are now reopened and the community survived thanks in large part to a proactive, community-built cost cutting effort. The furlough days have been lifted, but the financial outlook of the community continues to be cloudy as it is for practically every other Michigan city.
Sadly, Romulus's story of financial struggles is the norm for communities across Michigan and not an exception.
"The general public doesn't understand what's happened to communities in the last decade, but they still expect services that we've continued to provide," said Romulus Mayor LeRoy Burcroff. "You can only cut so far to get better efficiencies and cut out redundancies and we've done all that. There's no more cutting to be done and now we have to look at how to fix the system."
And Romulus has its own unique challenges, including having the lowest millage rate among all Wayne County cities and being home to Detroit Metropolitan Airport, which comes with many pros and cons. The airport is tax exempt and it makes up 27 percent of the city, which means roughly a third of the city's land area is tax exempt.
While the airport is a significant source of jobs for the area, there also is a tremendous amount of wear and tear on local roads from the travelers and employees going to and from the airport. These are roads that are largely the responsibility of the city, not the state or federal governments.
"People say, you're good in Romulus because you have the airport," said Romulus Mayor LeRoy Burcroff. "But they don't realize that we don't get direct taxation from the airport."
The forum on Feb. 23 is being hosted by the city and will feature the Michigan Municipal League's Anthony Minghine, COO and associate executive director, and Frank Audia, group managing partner for Plante Moran. Minghine, who has been touring the state as part of the League's saveMIcity initiative (learn more at saveMIcity.org), will discuss how and why the state's system for funding its communities is broken and doesn't track with the economy.
Audia will discuss the steps and sacrifices Romulus has taken to remain financially solvent.
Mayor Burcroff said he hopes many residents, business owners and officials of surrounding communities come to the event on Feb. 23 because it will be well worth their time.
"I hope they leave the forum with a better understanding of how the system works and have ideas about how to improve the system so it works better for them and better for local governments," Burcroff said.
Thank you to  Mayor Burcroff and Romulus officials Suzanne Moreno, director of financial services, and Tim Keyes, director of economic development, for providing the information on which this blog was based.
Matt Bach is director of media relations for the Michigan Municipal League. He can be reached at mbach@mml.org and (734) 669-6317.