Six West Michigan Mayors Team with Michigan Municipal League for SaveMICity Financial Health Forum
(View more photos here on flickr and have SaveMICity come to your community by emailing us at mbach@mml.org.)
Six West Michigan cities teamed up with the Michigan Municipal League recently to discuss the state's funding system for municipalities during a public forum that took place Wednesday, April 12.
Hosted by the Urban Metro Mayors and Managers, or UMMM, the Community Financial Health Forum explored municipal funding, ways to improve the current system and local impact of state revenue-sharing declines during a discussion that is free and open to the public. The forum happened at the Richard M. DeVos Center of Grand Valley State University, at 401 W. Fulton St. in Grand Rapids.
"Understanding how your cities are funded is a topic that every citizen should care about," said Anthony Minghine, Michigan Municipal League's chief operating officer and associate executive director. "Our goal is to educate where tax dollars go, how the revenue from the state supports city services and ways to improve the funding system."
The forum featured a presentation from Minghine about the current funding system and opportunities for improvement. The presentation was followed by a panel discussion featuring mayors from Grand Rapids, Walker, Wyoming, East Grand Rapids, Kentwood and Grandville. The group discussed local impacts of the funding system.
"Understanding the nuances of state and local funding can be confusing," said Mark Rambo, deputy city administrator for the City of Kentwood and UMMM coordinator. "The Financial Health Forum is a great way for residents and business owners to connect with local leaders and learn about the impacts of our current funding model."
The six mayors who spoke and their topics were:
East Grand Rapids Mayor Amna Seibold – Proposal A and the Headlee Amendement impact on each other;
Grandville Mayor Steven Maas – dark store issue and its affect on communities;
Grand Rapids Mayor and League President Rosalynn Bliss – infrastructure and roads concerns;
Wyoming Mayor Jack Poll – revenue sharing issues;
Walker Mayor Mark Muizenga – roads and infrastructure;
And Kentwood Mayor Stephen Kepley – the impact of unfunded liabilities on communities.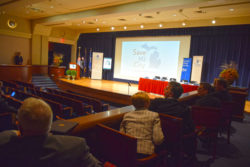 About 50 people attended the event including State Rep. Rob Verheulen, R-Walker; and State. Rep. Winnie Brinks, D-Grand Rapids.
The current system for funding municipalities is broken in multiple ways, including that it doesn't track with the economy. Michigan is recovering from the recession and housing crisis, but property tax revenue to communities doesn't rebound as quickly as it fell.
In addition, as property tax revenue declined, the state also reduced to communities another major income source, called revenue sharing.
The state of Michigan has now diverted more than $8.1 billion in revenue sharing from Michigan municipalities, including cities, villages, townships and counties since 2002. This new figure adds in 2016 financial data and dates back to 2002. Through 2015 the total was $7.5 billion in diverted revenue sharing dollars and the new figure now reflects the most recent 2016 data.
How much in revenue sharing has your community lost? You can look up that figure in our newly updated Revenue Sharing Searchable Data base here: http://www.savemicity.org/search/.
The consistent re-direction of revenue sharing funds away from Michigan communities is part of the reason that the state's system for funding its communities is broken.
The Michigan Municipal League's saveMIcity initiative has been active for more than a year now and we've traveled to more than 50 communities speaking to thousands of people about the broken system and need for change.
The April 12 event in Grand Rapids was part of that statewide tour.
View more photos from the April 12 event here on flickr and have SaveMICity come to your community by emailing us at mbach@mml.org.
Matt Bach is director of media relations for the Michigan Municipal League. He can be reached at mbach@mml.org.